How best to structure an essay about such a dispersed and elusive entity as documenta 14, spread across two distant cities and scores of venues? If form follows function, it presages a sprawling, out-of-control, poorly-signposted essay—an amalgam of impressions, detours, accidental discoveries, passing conversations, venues not found, lessons learned and unlearned.1
Part of the difficulty, or conversely the allure of documenta, is its sheer complexity, and this entails more than the geographical. Apart from the exhibits, each edition of the famed quinquennial features an ever-expanding public program of forums, performances, screenings and participatory actions. In 2017 this was titled The Parliament of Bodies, devised by queer theorist and writer Paul B. Preciado, encompassing thirty-four 'Exercises of Freedom' in Athens's Parko Eleftherias, and six so-called 'Open Form Societies', alongside many other actions, described thus,
… a dissonant and yet synchronic practice of heteroglossia and heterogeneity. Nomadic and performative, working as a stateless heterotopia by means of multiplication and displacement, the Parliament of Bodies acts within the spaces of the exhibition as well as within spaces of both cities (theaters, associations, studios, squares…) that are experimenting with new forms of sovereignty beyond the norm.2
Admirable sentiments, but it is hard not to smile at such convoluted language—and such statements have been reviled by several writers as the kind of thing that alienates 'ordinary' people from contemporary art. Arguably more accessible has been an excellent two-year discursive/publishing platform across four issues of Athens-based journal South as a State of Mind (founded and edited by Marina Fokidis in 2012),3 a documenta 14 daybook and documenta 14 reader. Add to these the main event—the Public Exhibition—across forty-seven exhibition venues in Athens and thirty-five in Kassel, and the result is a kind of perceptual/conceptual overload, where no one person can possibly take in all of its parts, and certainly not in a few short days. This generates a kind of dazed and footsore sense that there is always more to discover, that just around the next corner may lie the transformative experience which makes the pilgrimage worthwhile. These are not necessarily negatives, possibly the opposite, however a consistent and almost universal gripe has been about the absence of useful signage, interpretive panels, or even a comprehensible map, never mind a user-friendly mobile App, of the kind routinely developed for comparable events worldwide.
Then there is the additional 'Grand Tour' factor. In the European summer of 2017 the artworld firmament saw a rare alignment of simultaneous or overlapping events and openings, encompassing Athens, Venice, Kassel, Münster, Aarhus, and Basel's massive commercially-driven art week. The varying levels of accessibility, conceptual difficulty and destinational appeal of these offerings can have the effect of relegating each to an inattentive stop along the way, and documenta seems to have suffered a comparatively bad press as a result. Indeed torrents of critical vitriol have been poured upon this fourteenth edition, and word-of-mouth is even worse.
In a nuanced essay for the international Biennale Foundation,4 United States art historian Andrew Weiner suggests that if documenta is too big to fail, it may also have become too big to succeed,
The problem is not just that some people love to hate a winner; or that social media has made everyone a critic, rendering critical "consensus" impossible; or that the exhibition's influence has spawned countless imitations, thereby making it seem unoriginal. It's also become an issue of scale: not only the ever-lengthening roster of platforms and venues and artists and publications and archives and events and broadcasts and and and… but also the epoch-defining ambition of the curatorial arguments.
Weiner's remark about 'epoch-defining ambition' inevitably evokes comparisons with landmark recent editions, and their growing entanglement with large geopolitical and social themes, organised by such curators as Catherine David (1997), Okwui Enwezor (2002), and Carolyn Christov-Bakargiev (2012). Leaving aside Buergel and Noack's 'formalist' focus in 2007, these are hard acts to follow, alongside a strong run of Venice Biennales (Massimilliano Gioni in 2013; Enwezor's heavyweight edition in 2015; Christine Macel's lighter-weight but feelgood 2017 edition). Among this frequent-flyer cohort (to which one could add such names as Hou Hanrou, Stephanie Rosenthal, Charles Esche and Adriano Pedrosa), a decolonising and reparative approach to art history and contemporary biennale-making is now implicit, if not always explicit in their selections. One resulting impression is that documenta 14's curator Adam Szymczyk (pronounced SZHIM-zhick) may be covering well-trodden territory, and with less success. His title, Learning from Athens, has itself attracted a fair amount of derision, not least for its perceived (unfair in my view) Euro-centrism.
For whatever reason, Szymczyk and his team's efforts appear to have been prematurely consigned to the bin of art history's might-have-beens. I do not concur, and it is certainly too soon to make that call. We should not forget the critical rancour incurred by Harald Szeeman's seminal documenta 5 (Questioning Reality – Pictorial Worlds Today) and in 2002, despite its now-revered status, by Enwezor's documenta 11. It is entirely possible that the implications of this edition are not yet properly understood, and that its reputation will grow in retrospect. Ambitious failures are arguably more interesting than unambitious successes, and some critics have been alert to this, and in some surprising quarters. Holland Cotter, writing for the venerable New York Times, opined that '…given a choice between a well-ordered exhibition with a soft center, like this year's Venice Biennale, or a messy one with some hard, fibrous edges, I'll go for edges any day'.5 I'm with Cotter, and it is those fibrous edges which invite further investigation, including the decision to split the exhibition between Athens and Kassel.
To some, including many Athenians, this was the fatal conceit, parochialising an event of global scope into a peculiarly German-Greek affair, and not, for the most part, a harmonious one. To many in the Greek art scene, this was little more than an instance of wealthy German institutions 'slumming it'—a well-meaning but ultimately guilt-ridden exercise in cultural patronisation. As an example of local attitudes, a widely-publicised and much-shared stencil graffito around Athens read: 'Dear documenta: I refuse to exoticize myself to increase your cultural capital.' The rubric 'Learning from Athens' struck many as equal parts facile and insincere, exemplified by the decision to transport the collection of Athens's National Museum of Contemporary Art (EMST) to Kassel's central Fridericianum Museum, under the title Antidoron (αντίδωρον, literally the return of a gift), then failing to list the artists as participants in the main exhibition. Although the collection includes some well-known international names, most works are by lesser-known Greek artists of the 20th century, and the message, whether accidental or deliberate, seemed to be: here are examples of works by minor artists from the provinces, too numerous to mention.6 To those further afield, including in Australasia-Oceania, the notion of Greece as somehow emblematic of a global South is laughable, and the almost complete absence of Asian artists (there is only one from China, Wang Bing) appears an unforgiveable omission. Australia, it must be said, fares reasonably well pro-rata, with Dale Harding, Gordon Hookey and Bonita Ely all showing significant bodies of work in both cities, of which more below.
Despite a chorus of critical voices,7 it should be noted that the staging of the component of the Public Exhibition was not a lesser offering in terms of scale and content, and some found it more satisfying, or at least more edgy, than Kassel. This despite Szymczyk's decision to work only with institutional entities, rather than Athens's many independent art spaces, as had initially been hoped. It is not as if a geographically dispersed approach is entirely new, and numerous commentators have pointed out the precedents. documenta 13 director Carolyn Christov-Bakargiev staged smaller exhibitions in Afghanistan, Egypt and Canada prior to the main event in Kassel, while Enwezor's 'Platforms' in 2001/2—scholarly forums rather than exhibitions—were held in St Lucia, New Delhi (India), Lagos (Nigeria) and Dakar (Senegal). In a recent interview Christov-Bakargiev said,
The choice of Athens is interesting but, to me, less original because I had done the documenta in Kabul, Alexandria, and Banff, as well as Kassel. In Kabul there were 40,000 visitors and 25 artists from William Kentridge to Walid Raad, to Mario García Torres, and it was a great moment because it was like the first major art moment in postwar Afghanistan. So, I don't find the notion that it's not all happening in Kassel particularly challenging.
Although it's worth noting that it didn't really start with me either, because Okwui Enwezor had done documenta with platforms all over the world, and I believe Catherine David had proposed not doing the whole exhibition in Kassel, but the board declined. What I mean by this is that each successive director builds on what the others have done and so we're all grateful to our predecessors. The fact that it is also in Athens isn't the innovative aspect—the innovative aspect, curatorially, is how he works with his team, and who the artists are, and what works were brought in, and that was pretty radical because it was extremely harsh in an era which is extremely harsh. Our times are harsh.8
For middle-class European art audiences 'harsh' translates as 'difficult', or even 'bloody tough going', and Christov-Bakargiev is herself no stranger to such strategies, if arguably more adroit in their execution. It is also interesting the emphasis she gives to the curatorial team. A devolved, or perhaps delegated, curatorial model is now well-established, if not de rigeur these days, dating from as far back as Havana's third biennale and Jean-Hubert Martin's Magiciens de la Terre, both in 1989. Along with everything else at documenta, these teams of associate curators (Christov-Bakargiev called her 2012 co-curators 'agents') are ever-expanding, and Szymczyk appears to have accelerated this trend—at the opening press conference in Athens, the curtain went up to reveal a stage packed with over 100 people—almost outnumbering the media and, after a group performance of a choral work (Epicycle, 1968/2017) by Greek composer Jani Christou, a dozen people spoke for almost two hours before opening questions to the floor.
But let's cut to the chase. None of the above factors matter if the art is compelling, and is well-installed, lit, sited, contextualised. While there have been gripes about slap-dash installation values and signage, at the very heart of much of the dissatisfaction is, in my view, a growing resistance to the evolution of 'biennale art' away from the aesthetic and affective, towards what one might call the socially instrumental. This is not art-for-art's-sake, but art as evidence; as witnessing; as resistance; as decolonising strategy; as social practice; as a vector for cultural agency. And it's definitely not for everyone—in Cotter's words '… if you're looking for a soak in speaks-for-itself beauty, you might as well stay home'. A great deal of what is presented across the documenta 14 venues, in both cities, is evidential in nature. There are seemingly endless vitrines, documents, books, historical photographs, and elsewhere I have written about what United States theorist Hal Foster has called 'an archival impulse' in contemporary exhibition-making.9 In general this impulse works against the equally powerful tendency towards spectacle and scale-for-scale's-sake. There is a fair amount of video, and much of it is long-form documentary or narrative in nature, rather than ambient or aimed at sensory immersion. All this requires time and effort to take in, and peering briefly at a video, a vitrine, or a row of archival photographs, will generally deliver a disappointing visual experience. For those craving greater thrills there is not much that is big and shiny, few post-internet/VR/technologically-driven installations, hardly any illumination/light art.
This is not to suggest that documenta 14 does not have its moments of spectacle, however these are subsumed into the sombre, evidentiary subtext—the history of violence and repression lurking below the surface. A prominent example is Argentinean artist Marta Minujín's monumental structure The Parthenon of Books (2017), taking pride of place on Friedrichsplatz, outside Kassel's Fridericianum Museum, and undoubtedly the most-shared background to countless selfies. Interestingly this is a recreation of a 1983 work in Buenos Aires, featuring books banned by Argentina's military junta (which was ousted that year), and her choice of the Parthenon then was presumably as a symbol of democracy. Here it has the added resonance of 'learning from Athens', and the books include all kinds of forbidden texts, including those banned and/or burned by the Third Reich. It should be noted that the immense structure is not solidly built from piled books, but is rather a scaffold clad with pockets in which the books are held, which at close quarters gives the whole edifice a rather flimsy, plasticised look, somewhat at odds with its weighty thematics. One might add that there is something almost whimsical about these evocations of historical censorship in an era where 'fake news' may pose a far greater threat to principles of truth and liberty.
In related vein, at Kassel's Neue Galerie, German artist Maria Eichhorn has installed a complex nine-part installation, titled the Rose Valland Institute (2017). This long-term project included an earlier open call aimed at tracing the history of Nazi-era looting of Jewish property in Germany and France, including the notorious Gurlitt collection, of which more below. Central to Eichorn's multi-part displays of documents and videos, a reading room and research workshop, is a towering shelf filled with confiscated Jewish books which had until recently been held at the Berlin state library. The exhibits at the Neue Galerie in many ways operate as the conceptual core or 'brain' (to use Christov-Bakargiev's terminology from 2012) of the exhibition. This perhaps derives from Szymczyk's original intention, which was to exhibit the entire Gurlitt collection of looted art—some 1500 pieces—presumably as a grand metaphor for the entanglement of art with political power and its abuse.10 This did not eventuate, and perhaps for the better—the Neue Galerie is in many ways the most satisfying and concentrated expression of documenta 14's archival impulse, with an astonishingly diverse array of materials, ranging from founder Arnold Bode's drawings of classical Greek ruins to evocations of the 1940s Bengal Famine by Zainul Abedin (Bangladesh, 1914-76); Samuel Beckett's German Diary; the late (1931-2013) Maori artist Ralph Hotere's Malady Panels (1971); a copy of France's infamous 1685 Code Noir; mouth and foot paintings by transgender double amputee Lorenza Böttner (Chile, 1959–1994); among nearly 100 artists and/or exhibits. Subtly threaded through these utterly fascinating (if dry) displays are multiple references to utopian thought, and to Germany's enduring intellectual and visual romance with ancient Greece, including that of the Third Reich, a theme surely worthy of its own, dedicated exhibition.
Returning to the monumental, Nigerian artist Olu Oguibe's Monument for Strangers and Refugees is a 16 metre-high concrete obelisk situated on Kassel's central Königsplatz, inscribed in German, English, Arabic, and Turkish with the biblical phrase 'I was a stranger and you took me in'. The piece was awarded the 2017 Arnold Bode Prize, named after documenta's founder, and at the time of writing, negotiations are underway for the city of Kassel to permanently acquire the work. This has been predictably opposed by right-wing city councillors, with one describing the monument as 'ideologically polarizing, deformed art' and linking it to putative (and entirely imaginary) terrorist attacks carried out by immigrants, in a disturbing echo of the Nazi-era concept of 'degenerate art'.11 Several other major works engage directly with the plight of refugees, and while most avoid what Weiner calls 'the sort of high-budget, low-concept emergency Pop one now associates above all with Ai Weiwei'12 some do tend towards the superficial. An example, situated indoors in the Documenta Halle, is Mexican artist/composer Guillermo Galindo's Fluchtzieleuropa-havarieschallkörper ('refugee-destination-Europe-accident-soundbox'), assembled from salvaged pieces of boats from the Greek island of Lesbos. Admittedly the artist has added harpsichord and piano strings from which he periodically elicits sound performances, but it appears heavy-handedly literal in an artworld plagued by disembodied shorthand references (think orange lifejackets) to the human plight of refugees. Perhaps more successful, or at least more ironic, is Kurdish-Iraqi artist Hiwa K's When We Were Exhaling Images, a large outdoor installation of stacked ceramic pipes of the kind used in civil engineering projects, kitted out as living spaces with quirky but unliveable interiors, exposed to the elements. As a not-so-sly comment on the proliferation of slick, hipsterish, refugee-inspired housing solutions generated by countless European art and architecture students, it is a good joke, but ultimately a shallow one, compared to some of the artist's other recent works. Hiwa K is one of the few selected artists with actual experience as a refugee, so perhaps he can be forgiven a little levity. During the opening tours by dignitaries, he cheerfully invited the German President to climb into one of the spaces, however this enticing photo-opp was politely headed off by His Excellency's media minders.
Many works address issues of translocality and displacement in more nuanced ways. While the Greek capital has been a cultural crossroads for millennia, it is not widely appreciated that Kassel is home to several generations of migrant communities, known locally as Gastarbeiter (guest workers), who were highly instrumental in its postwar economic recovery, as well as newer arrivals. The Nordstadt neighbourhood, where many such communities are concentrated, is also home to documenta's newest major space, the Neue Neue Galerie, a grand former post office. Although somewhat overwhelmed by the architecture, works by some twenty artists and collectives can be found here, including Rasheed Araeen's Reading Room (2016-17), featuring abstract canvasses from his OPUS series, alongside the entire back catalogue of Third Text journal, which Araeen famously founded in London in 1987. Among many other significant works, including by Gordon Hookey (see below), a special mention should be made of The Society of Friends of Halit: Unravelling the NSU Complex! This collaboration with Britain's Forensic Architecture (based at Goldsmiths College, London) examines, through video and documentation, alleged state complicity in the 2006 murder of a young Turkish migrant, Halit Yozgat, in his family's Nordstadt café, by members of Germany's neo-Nazi NSU (Nationalsozialistischer Untergrund).
Across both cities and various venues, several other feature-length video works explore similarly weighty themes, including United Kingdom-based Naeem Mohaiemen's three-channel project Two Meetings and a Funeral (2017, 85 min.), a surprisingly absorbing account of the failures of the Non-Aligned Movement (NAM). His Tripoli Cancelled (2017, 95 min.) is a poetic, tragicomic meditation on alienation, through the eyes of a man (based on the artist's father) stranded in an abandoned airport. Another standout is Greek artist Angela Melitopoulos's powerful four-channel video/audio installation Crossings (2017), one of the few projects to engage significantly with environmental crisis, as well as with human displacement. Also of note are Moroccan-born Bouchra Khalili's The Tempest Society (2017, 60 min.); Atlas Fractured (2017), a large video/projection installation by British artist Theo Eshetu; Indian filmmaker Amar Kanwar's Such a Morning (2017, 85 min.); and works by Hiwa K; United States artist Eva Stefani; and Syrian film collective Abounaddara.
In most of these works, aesthetic considerations are far outweighed by a heavy socio-political and/or art-historical load. As noted earlier, Art's 'ethico-political turn' has been the subject of much recent discourse, most prominently at international biennials, relatively unfettered by commercial imperatives. And while creative engagement with political and social change may nowadays be a largely uncontentious progressive-left stance, documenta 14 is possibly the most concentrated expression of this tendency to date, with the possible exception of São Paulo's 32nd biennial (Live Uncertainty, 2016). This is an exhibition which, at heart, is about art's political agency (or lack of it), or at least art's ability to stare social and environmental injustice (both historical and contemporary) in the face, and ask what might be done, not just by those who make art and exhibitions, but by society at large. This agenda, if one may call it that, has had a bad rap, with aspersions flying, not least the perennial question of whether art can, or should, sustain such a burden of responsibility. The curatorial team have been accused of being 'self-righteous social warriors', having a 'white-saviour-complex' and much else besides.13 These perspectives, largely from an unreflective mainstream media, intersect with a muted but persistent disquiet among progressive/left/minority thinkers, focussed on the presentation of artists from beyond the art circuits of the global North, and especially Indigenous artists. Reading across numerous art journal responses to documenta 14, there is some unease at the framing of cultural and ethnic difference, and the issues go well beyond this particular event. As with reductive ideas about refugees, there is always a risk of deeply situated cultural practices being de-contextualised, or worse exoticised, in mega-exhibition and art museum settings. A range of critical positions are in play, encompassing legitimate interrogations of authenticity and cultural identity, however it is interesting that more than twenty years on, Hal Foster's 'quasi-anthropological paradigm' is back in contention.14 Writing for Frieze, Susanne Von Falkenhausen evokes both Foster and Gayatri Spivak ('identity as commodity')15 in suggesting that '…now, under the wing of a politics of affect, understood as an attack on the consequences of rationalism, authenticity has made a comeback and, with it, the ethnical "other"'. She goes further, characterising this tendency as '…an outsourcing to the (post-)colonial other of the political guilt, spiritual desire and collectivity that plague the Western-Northern self'.16 She and several others have questioned the display context of powerful, carved masks by the late Kwakwaka'wakw artist Beau Dick (Canada, 1955-2017), shown at both EMST in Athens and the Documenta Halle, Kassel. More generally, American theorist TJ Demos wonders whether '…documenta curators risked perpetuating a predominantly traditionalist and even essentialist view of Indigenous artists',17 and Andrew Weiner suggests the presence of a '… lingering colonial fantasy, as well as with the received idea of the Southern artist as "the voice of his people", someone who can translate local folkways into the vocabulary of modernity'.18 All these writers note the siting of audio works by Indigenous North American collective Postcommodity as a notable exception to such impressions.
In Australia these debates, while ongoing within tiresome media contexts such as 'The Culture Wars', are hopefully no longer raging within major art institutions, which for the most part work hard to avoid reductive, ethno-anthropological framings of Aboriginal and Torres Strait Islander artists. Whether working in urban or remote communities, Australian Indigenous artists themselves have for decades asserted their diverse, individual practices as part of mainstream contemporary art, however that term may be defined. One might expect—post-Enwezor's decolonising 2002 edition, as well as recent biennials in Havana, Istanbul, São Paulo and Sydney—that such approaches are now established international curatorial practice. However a significant misjudgement is evident at Kassel's Ottoneum, a baroque natural history museum (originally Germany's first theatre). Here the work of Queensland artist Dale Harding (Bidjara/Ghungalu/Garingbal peoples), consisting of large screen-printed panels and stencils (Composite Wall Panel: Reckitt's Blue, 2017), is grouped with works by the Indigenous Sámi Artist Group (Keviselie/Hans Ragnar Mathisen, Britta Marakatt-Labba, Synnøve Persen, all from Norway); Mongolian artists Nomin Bold and Ariuntugs Tserenpil; Cambodian Khvay Samnang; Colombian Abel Rodríguez (Muinane people); British Nigerian photographer Akinbode Akinbiyi; and several others of non-European ethnicity, with a preponderance of Indigenous perspectives. According to the organisers,
In an attempt to reconcile the two [that is, theatre and natural history], many of the artworks featured on the Ottoneum's ground floor deal with the theater of land. From issues around cartography and accessing Indigenous history to reflections on landscape and the urban-rural relationship, the presentation by documenta 14 advances the question of how land rights and the politics of land become the stage—at times quite literally—for larger geopolitical and historical questions.19
All well and good, however the natural history museum setting, with its evocations of flora and fauna, is unfortunate to say the least, and the notion of 'theatre' tenuous in the extreme. Several critics have cited this grouping as an example of the kind of well-meaning but unreflective othering of the very kind the organisers aim to subvert. Demos (who heads the University of California's Center for Creative Ecologies) also notes that '… it was astounding that the exhibition made little or no reference to current artistic explorations—including Indigenous ones—of climate change [… given its …] increasingly indisputable status as the most urgent and unprecedented world-historical challenge facing contemporary civilisation and its biodiverse life-worlds'.20 Australian Bonita Ely partially contradicts this trend with an expansive mixed-media installation (Plastikus Progressus: Memento Mori, 2017) at the Athens School of Fine Arts (AFSA), which '…maps out imminent scenarios for aquatic ecologies if pollution continues at its present rate', referencing the waterways of Sydney, Athens and Kassel. At Kassel's Palais Bellevue, she presents another multi-part installation, Interior Decoration: Memento Mori (2013–17)
in which she '…draws attention to the chronic, intergenerational effects of post-traumatic stress disorder as an outcome of war, which shapes the psychological fabric of Athens and Kassel: Athens as site of deep economic trauma and transitional space between Europe and the Middle East, Kassel as destination for Syrian refugees as well as home to one of the largest tank and ammunition factories in Germany'.21 The question again arises: given the deeply situated and bitter histories of these traumas, how useful is it to conflate them into some kind of meta-narrative of man's inhumanity to man? Also In Kassel, Australian artist Gordon Hookey (Waanyi people) shows his enormous ten metre-high mural and painted canvas project-in-progress MURRILAND! (2017) at the Neue Neue Galerie, and both he and Dale Harding are well-presented in Athens—Hookey with another large and vibrant mural (Solidarity, 2017) on the exterior of the AFSA, and Harding with a powerful installation of 'fetishised' black silicone objects (Body of Objects, 2017), spaciously installed at the EMST.
I warned readers at the outset of a sprawling essay, and I am out of space, without having covered more than a fraction of the dense art-sprawl that is documenta 14. Some of the above perhaps over-stresses the negatives and omissions of this patchy but ultimately rewarding (if you have the time) mega-exhibition. In its defence, one must point to the diversity and depth of the curatorium; its implicit and largely un-noted feminism; the sincerity of its attempted conversation; and its earnest wish to engage in a genuine and equitable way with thoughtful art audiences, and with communities beyond the museum. There are many standout works, even if they take some finding, and more patience and attention than the average viewer is willing to give. The most important take-away message may be that in order to 'unlearn', we must first be open enough to discard what we think we know about the world.
Maria Eichhorn, Unlawfully acquired books from Jewish ownership. Installation view, Neue Galerie, Kassel, documenta 14. © Maria Eichhorn/VG Bild-Kunst, Bonn 2017. Photograph Mathias Völzke.
Rasheed Araeen, Shamiyaana—Food for Thought: Thought for Change, 2016-17. Canopies with geometric patchwork, cooking, and eating, Kotzia Square, Athens, documenta 14. Photograph Yiannis Hadjiaslanis.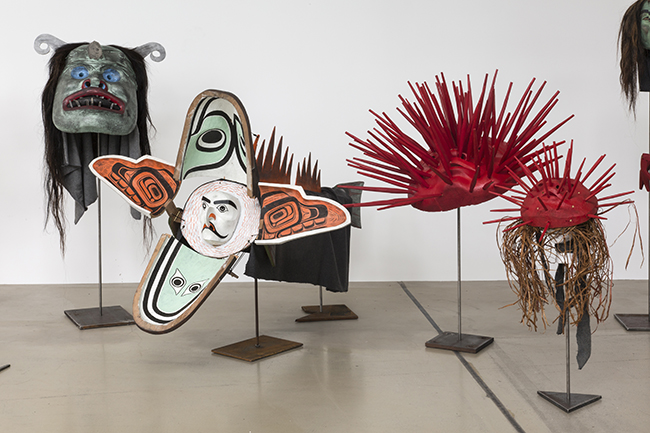 Beau Dick, installation view, documenta Halle, Kassel, documenta 14. Photograph Roman März;
Gordon Hookey, Solidarity, 2017. Acrylic paint on concrete. Athens School of Fine Arts (ASFA). © Gordon Hookey/VG Bild-Kunst, Bonn 2017, documenta 14. Photograph Stathis Mamalakis
notes:
Postscript
As of the filing deadline, a media storm has erupted around right-wing press allegations which, according to a media statement released by the curatorium, '…portrayed Adam Szymczyk, the Artistic Director of documenta 14, and Annette Kulenkampff, the CEO of documenta gGmbH, as responsible for what they described as the imminent bankruptcy of documenta'. Much of the controversy is focussed on the alleged financial overreach of the Athens component, presumably an extension of persistent German resentment of 'freeloading Greeks' which the exhibition sought to alleviate. The lengthy media statement adds:
In a spirit of collective reflection, we believe it is time to question the value production regime of mega-exhibitions such as documenta. We would like to denounce the exploitative model under which the stakeholders of documenta wish the 'most important exhibition of the world' to be produced. The expectations of ever-increasing success and economic growth not only generate exploitative working conditions but also jeopardize the possibility of the exhibition remaining a site of critical action and artistic experimentation. How can the value production of documenta be measured? 22
The statement notes 338,000 visitors to Athens venues and more than 850,000 visitors in Kassel, and that 'the money flowing into the city [Kassel] through the making of documenta greatly exceeds the amount the city and region spend on the exhibition'. A few days later over 200 participating artists issued an open letter of support for the curators.23 It is likely we will be hearing much more in coming months, however my guess is that will is not necessarily augur badly for the next edition in 2022. Budget blowouts and controversy feed into the ever-growing mythology of documenta as the world's biggest and riskiest exhibition of art being made today.
Notes
1. At the June 7 press conference in Kassel, Szymczyk said 'we must act as political subjects' and that 'the process of becoming a political subject is a process of unlearning'. The concept of 'unlearning' is well-established in decolonial discourse, for example see Walter Mignolo and Madina Tlostanova, Learning to Unlearn: Decolonial Reflections from Eurasia and the Americas, Ohio State UP, Columbus, OH, 2012.
2. Statement: The Parliament of Bodies, Documenta, 'Documenta 14 Website'. See http://www.documenta14.de/en/public-programs/927/the-parliament-of-bodies
3. All issues of South as a State of Mind can be read online at: http://www.documenta14.de/en/publications/15732/south-as-a-state-of-mind
4.  Andrew Stefan Weiner, 'The Art Of The Possible: With And Against Documenta 14', Biennale Foundation (online), 14 August 2017. See http://www.biennialfoundation.org/2017/08/art-possible-documenta-14/
5.  Holland Cotter, 'Documenta Kassel: Using Art as Their Witness', The New York Times, 23 June 2017. See https://www.nytimes.com/2017/06/23/arts/design/documenta-kassel-using-art-as-their-witness.html
6. The EMST/Fridericianum artists were later added 'below the line' on the online artists page, and are listed in the venue materials.
7.  For example see 'We Come Bearing Gifts – iLiana Fokianaki and Yanis Varoufakis on Documenta 14 Athens', Art Agenda,  8 April 2017. See http://www.art-agenda.com/reviews/d14/
8.  Naomi Rea, '"Our Times Are Harsh": Carolyn Christov-Bakargiev Comes to the Defence of documenta 14',  Artnet News, 6 July 2017. See https://news.artnet.com/art-world/carolyn-christov-bakargiev-on-documenta-14-1014863
9. Hal Foster, 'An Archival Impulse', October 110, 2004, pp.3-22.
10. The Gurlitt Collection refers to the 1,500 works of Modern art found in the Munich apartment of Cornelius Gurlitt in 2012. His father, Hildebrand, had been art dealer to the Nazis, and the hoard has been the subject of multiple restitution claims by Jewish families.
11.  See Andreas Hermann, 'documenta-Kunstwerk Obelisk: Die AfD spricht von "entstellter Kunst"', HNA (Hessische/Niedersächsische Allgemeine), 17 August 2017. See also: 'Alt-Right Politician Protests Kassel's Acquisition of Documenta 14 Artwork', Art & Education, 23 August 2017.
12. Weiner, op. cit.
13. The influential newspaper Die Zeit's scathing article was titled 'In the Temple of Self-Righteousness', see Hanno Rauterberg, 'Im Tempel der Selbstgerechtigkeit', Die Zeit, 13 June 2017.
14.  See Chapter 6, 'The Artist as Ethnographer?', in Hal Foster, The Return of the Real: The Avant-Garde at the End of the Century, MIT Press, Cambridge, MA, 1996.
15.  Gayatri Chakravorty Spivak, 'Acting Bits/ Identity Talk', in Critical Inquiry 18, 1992, p.798.
16.  Susanne Von Falkenhausen 'Get Real', Frieze (online), 7 June 2017. See https://frieze.com/article/get-real-0?language=en
17. TJ Demos, 'Learning from documenta 14: Athens, Post-Democracy, and Decolonisation', Third Text (online), September 2017. See http://thirdtext.org/demos-documenta
18. Weiner, op. cit.
19. See venue notes, Naturkundemuseum im Ottoneum, Documenta, 'Documenta 14 Website'. See http://www.documenta14.de/en/venues/21725/naturkundemuseum-im-ottoneum
20. Demos, op. cit.
21. Hendrik Folkerts, Bonita Ely artist notes, Documenta, 'Documenta 14 Website'. See http://www.documenta14.de/en/artists/1001/bonita-ely
22. See 'Documenta 14 Curatorial Team Reacts to Bankruptcy News, Denounces Stakeholders' "Exploitative Model'", Artforum (online), 14 September 2017. See https://www.artforum.com/news/id=71118
23. See 'A statement by the artists of documenta 14: On the emancipatory possibility of decentered exhibitions', e-flux conversations (online). See https://conversations.e-flux.com/t/a-statement-by-the-artists-of-documenta-14/7031
documenta 14 was held at Athens, Greece, 18 April – 16 July 2017 across various venues, and at Kassel, Germany, 10 June – 17 September also across various venues.
David Corbet is an independent researcher, writer and curator based in Sydney, Australia.